Unworried through your studies
Just as in life, not everything always runs smoothly in your studies. In difficult times or with questions about studying with an impairment or with a child, we are at your side with our advice.
Social Counselling and Psychological Counselling
The task of the General Social Counselling / Psychological Counselling is to support and advise students in all issues that concern them - privately or during their studies.
The main focus is on social issues related to studying. Social problems are complex and of the most diverse nature. In any case, a conversation in the social counselling service is useful. The conversations, which are treated confidentially, serve to provide individual clarification and orientation and should facilitate decision-making.
The social counselling service provides information and advice on topics such as:
General financial benefits for students
Insurance issues
Possibilities of financing studies (except BAföG)
Studying with a child
Studying with disability and chronic illness
Foreign students in Germany
But the General Social Counselling Service is also a contact point for other problems. The social counselling service can be especially helpful for first semester students and foreign students who need orientation regarding the authorities and state institutions.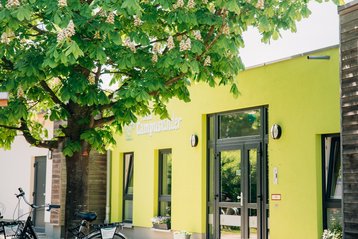 Daycare centre "Campuskinder"
The daycare center "Campuskinder" is the first daycare center of the Studierendenwerk Greifswald. With this, the Studierendenwerk primarily wants to make it easier for students and employees of the University of Greifswald to study or work with children.
Zur Kita Campuskinder